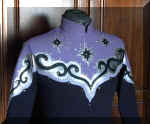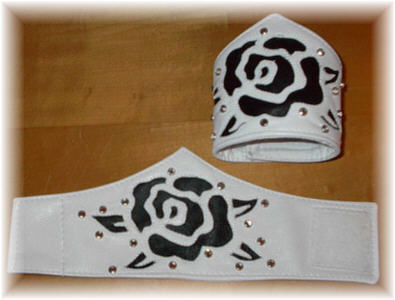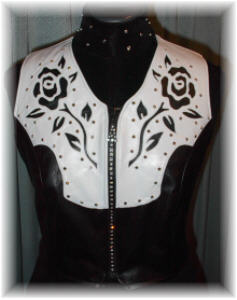 If you are looking for quality Western Horse Show Clothing, you have come to the right place. We specialize in making leather vests and leather trimmed shirts. You can see some of our work by browsing this site. Each item is customizable and made just for you in your choice of colors.

We love what we do! We try to make each garment unique, paying attention to detail, and treating each vest or shirt as if it were a work of art. We use the best quality materials available, and take great care in the construction of each garment. We take great pride in each article we produce, and in knowing that our customers are satisfied.

You Oughta Be in Pictures . . .
If you have one of our vests already, send us a picture of you wearing it. You will receive a $10 credit toward a future order for sending the picture. If we use your picture on the site, you will receive an additional 10% discount on your next order or a free pair of our basic cuffs.

Specials . . .
Check out our ebay auctions for special deals. We usually list a few special items each month.
Get a 10% discount on your entire order with our G&M Riding Club ad!

Have a great show season, and thank you for visiting our site!